East Point rally calls for racial justice, police reform
Organizers want city hate crimes ordinance, reallocation of police budget
East Point Local is a new media outlet reporting on issues impacting the city and its residents. Our reporting is delivered via email. If you like what you see, please subscribe – it's free! – and share it with friends and family.
---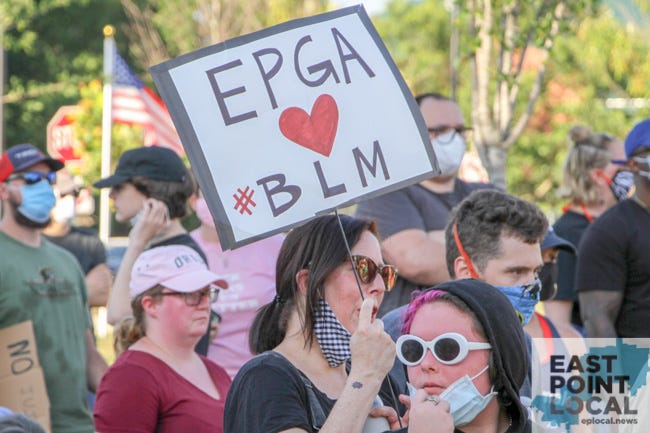 A crowd of nearly 200 people rallied in East Point on Thursday for racial justice and police reform, including the mother of a man gunned down by police who delivered a passionate speech about police brutality.
Participants in the event – which opened with a rally in Sumner Park and ended after a march at City Hall – included Monteria Robinson (second photo). Her son Jamarion, a 26-year-old former college athlete, was shot 76 times and killed by police in 2016 as they attempted to serve a search warrant at his girlfriend's apartment near Camp Creek Marketplace.
"Imagine just sitting and watching TV and then all of the sudden you hear boom," Robinson said. "The front door was battle-rammed open by 17 rogue police officers."
"Over 90 rounds were fired at my son. Flashbang grenades were thrown at him, landing on him, burning him. And you ask me if I'm angry? Yes, I am angry," she added.
Organizers of the event said they wanted to capture the energy of the ongoing "no justice, no peace" demonstrations for racial justice in metro Atlanta to call for change in East Point.
"Smaller cities, in particular East Point, are not immune to the injustice and we wanted to make a demonstration so that our community as well is here in support of black lives too," said Lacie Pierre, one of three organizers of the event.
Listen to Monteria Robinson's full speech at the event:
'A safe space for all types of people'
The organizers – all of whom live in East Point – called for law enforcement officers involved in Robinson's killing to be prosecuted, the city to pass an LGBTQ-inclusive hate crimes ordinance, reallocating a portion of the police department's budget to fund community and social programs, and the removal of Confederate-era relics and street names.
The East Point City Council discussed a broad LGBTQ-inclusive nondiscrimination policy in February, but the measure encountered some resistance. The issue was then sidelined as the city grappled with the outbreak of the coronavirus pandemic.
But the ordinance – along with a proposal endorsing an LGBTQ-inclusive hate crimes law before state lawmakers – resurfaced during a council work session on Monday. The council also discussed efforts to advance racial equity in the city.
"It is something that we want to progress so that we can make this a safe space for all types of people and that it's our community and everybody is welcome here," Pierre said.
On June 1, the council adopted a $42 million general fund budget for the new fiscal year that starts next month. The budget includes more than $14 million for the police department, which is 34 percent of the budget and the city's most costly department.
On Thursday, more than a dozen East Point police officers and Futon County Sheriff's deputies watched over the event in Sumner Park. The officers escorted the march to City Hall and blocked traffic along the way. At City Hall, a half-dozen sheriff's deputies stood at metal barricades that blocked the front of the building.